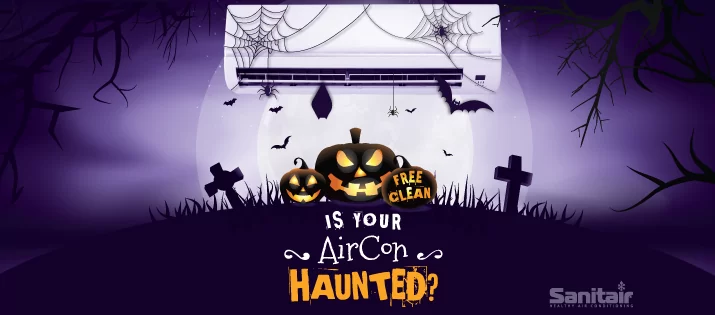 Is your Aircon Haunted? 👻😱
Win a FREE Air Con Exorcism Value $145.00*
Is your air conditioner starting to look like the inside of a Haunted House?  Are you hearing unusual scary, spooky and ghostly noises coming from inside?  Are you frightened to open the front door not knowing what evil lurks inside?  Can you smell strange and unpleasant odours that remind you of a decomposing corpse? ☠️ ⚰
Has all your healthy and cold air packed their bags and moved out leaving only hot air, rodents, cockroaches and lizards to call your aircon home?
This Halloween🎃 Sanitair is going to send one of our professional Air Conditioning Ghost Busters 👻 to a home or business for FREE to evict all evil.
No More Scary Noises, Ghoulish Smells and Hot Air.
Your air conditioner will look as new and deliver Clean, Fresh and Great Smelling Cold Air.
All you have to do is Like our Facebook page, tell us about your scary air conditioner or share a photo of your haunted aircon.
The scariest aircon story or freakiest photo will win as judged by the Sanitair office staff.
Conditions Apply. Entries Close Midnight Friday 3/11/17