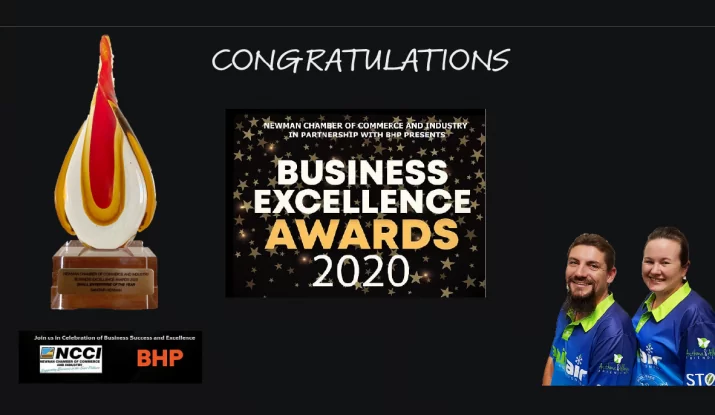 The Newman Chamber of Commerce and Industry Business Excellence Awards 2020 Under the Stars was held last night at Fortescue Golf Club in Newman.
Highlighting and celebrating the achievements and success of small and medium businesses in Newman. Presenters from BHP and the Newman Chamber of Commerce & Industry engaged audiences with speeches and words of encouragement, congratulating all the outstanding local businesses, employers, apprentices, trainees and other individuals who had demonstrated exceptional commitment and dedication to business in the community.
Daniel & Lee Hutcheson at Sanitair Newman won NCCI Business Excellence Award 2020 – Small Enterprise of the Year.
We offer our congratulations!
This award is now added to their 2019 Certificates of Nomination in Customer Service and Small Enterprise of the Year 2019.
A huge 'Thank you' to the local Sanitair Newman customers and businesses who nominated Sanitair Newman in the 2020 NCCI awards and for your continued support.
www.facebook.com/SanitairNewman
1800 130 168
Sanitair Newman – Air Conditioning Cleaning and Sanitising