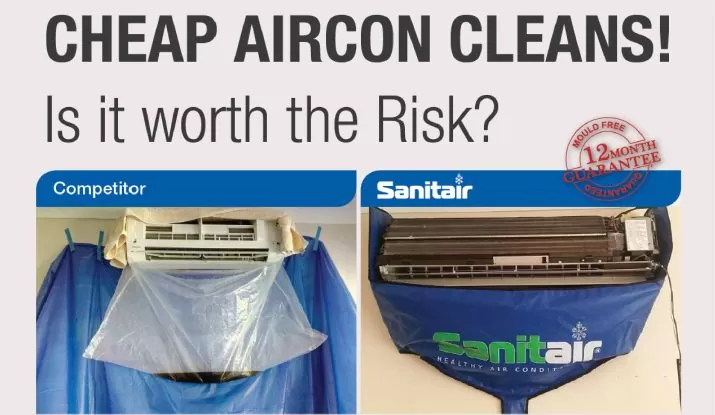 Cheap Aircon Cleaning – Is it worth the Risk?
Air conditioning units are an essential part of most homes in Australia, especially during the hot summer months. While cleaning your air conditioning unit may seem like a simple task, it is actually a complex and technical process that requires the expertise of a professional.  With the increasing number of cheap air conditioner cleaning services available in the market, it can be tempting for homeowners to go for the most affordable option. However, this can be a mistake that may result in more problems and costly repairs in the long run.
Cheap air conditioner cleaning services often use substandard equipment and chemicals that can damage the internal components of your unit. This can lead to reduced performance, higher energy consumption, and an increased risk of breakdowns.  Additionally, inexperienced technicians may not detect and repair underlying problems, which can result in the build up of mould and bacteria inside your unit.  This can have a significant impact on your indoor air quality, causing allergies, respiratory issues, and other health problems.
On the other hand, Sanitair Australia is a trusted and professional air conditioning cleaning company that has been offering comprehensive services to homeowners for nearly 20 years Australia wide.  They use the latest equipment and techniques to thoroughly clean and sanitise your unit, ensuring that it operates at peak performance and provides clean and healthy air inside your home.  Sanitair technicians are fully trained and certified, and they have the knowledge and experience to detect any issues that may be affecting your unit's performance.
'A cheaper AirCon Clean can end up costing you more'
Sanitair Australia also provides a detailed report of the cleaning process and any necessary recommendations, allowing homeowners to make informed decisions about their air conditioning unit. They also offer flexible scheduling and affordable pricing to ensure that their services are accessible to all. Moreover, Sanitair Australia is committed to environmental sustainability and uses eco-friendly products and processes to minimise their impact on the environment.
In conclusion, while cheap air conditioner cleaning services may seem like a good option in the short term, they can actually cause more problems and result in costly repairs in the long run.  Home and Business owners should choose a professional and trusted air conditioning cleaning company like Sanitair Australia to ensure that their units are cleaned and maintained to the highest standards.  Sanitair Australia provides comprehensive services, trained technicians, and affordable pricing, making them the best choice for home/business owners who want to ensure the performance and health of their air conditioning units.
Call Sanitair today for professional air conditioning cleaning that will improve your indoor air quality, extend the life of your system.