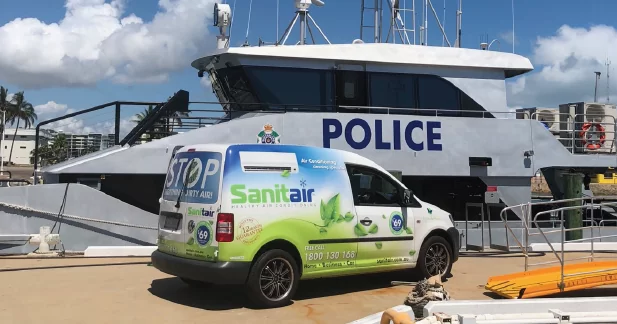 North Queensland's $4M Floating Police Station gets the full Premium Sanitair Clean and Sanitise and is once again fit for duty.
Commissioned in December 2014 and named the Brett Irwin, in honour of Constable Brett Andrew Irwin who was fatally shot at Keperra in 2007, the vessel is, without doubt, one of the best-equipped police boats in the country. The Brett Irwin boasts sleeping accommodation for 10 people, a commercial-style galley and holds enough diesel fuel to travel to 700 nautical miles at cruising speed – the distance from Townsville to Brisbane.
The team from Sanitair Townsville said it's not every day that you get to spend their whole day in a police station and enjoy the experience. Sanitair has provided their award-winning services for police stations before but this was a first for a floating one.
Cleaning and sanitising the air conditioning systems in such a vessel has its challenges, working in confined spaces and being surrounded by a lot of sensitive and expensive equipment. Sanitair Townsville was happy to report that the job was completed on time before the vessel was due to sail again and without incident as expected.
You too can experience the Sanitair award-winning air con clean by Free Calling: 1800 130 168 nationwide.