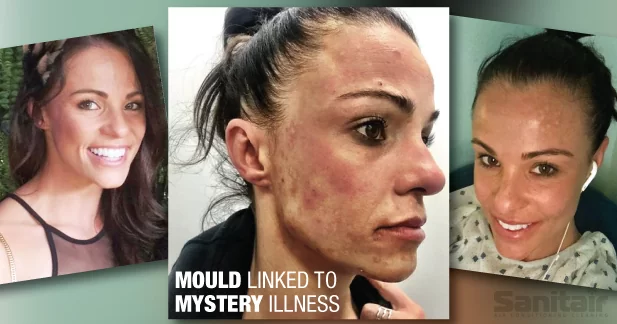 A 34-year-old high school PE teacher developed lesions all over her skin after moving into a brand-new apartment in trendy Melbourne suburb of Prahran in April 2014.  Carly Buhagiar had no idea how disastrous the place would be for her health, she was diagnosed with depression, anxiety and autoimmune condition that left her so exhausted she was forced to quit her job.
During the three years, the 34-year-old high school PE teacher lived in the rental unit she developed lesions all over her skin. At the same time, Ms Buhagiar's former partner, who was also living in the unit, developed an eerily similar autoimmune condition.
However, it would be years before they would connect the dots – and trace their dramatic health problems back to an air conditioner filled with mould.
Diagnosis Found – MOULD Found to be the cause
"I was just handballed from specialist to specialist, and I probably went to see about 14 different doctors," she said.  It took over 20 months after she first moved into her apartment until she was finally diagnosed with toxic mould illness after seeing a new GP.
When asked when she felt her skin was at its best, she replied: 'When I go on holiday.' Luckily for Ms Buhagiar, the GP's colleague had just had an experience with mould, with his son becoming very ill because of it. With this in mind, Ms Buhagiar's GP recommended she get the apartment tested for mould.
Toxic mould illness is one of the most under-diagnosed conditions caused by toxic vapours from mould.

These vapours can cause an auto-immune reaction in some individuals like in Carly Buhagiar's case.

Symptoms include fatigue, brain fog, memory loss, shortness of breath, depression, sleep disturbances and  abdominal pain.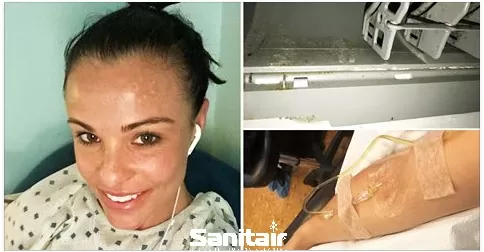 "I did a home test kit off the internet. And sure enough, alarm bells rang straight away," she said.  Ms Buhagiar had further tests done by Dr Cameron Jones, "He came out and swabbed the whole place. It was uninhabitable," she said.
Dr Jones said "It was extremely high where the air conditioner was pumping out. That was the central thing that you saw when you walked into the apartment," he said.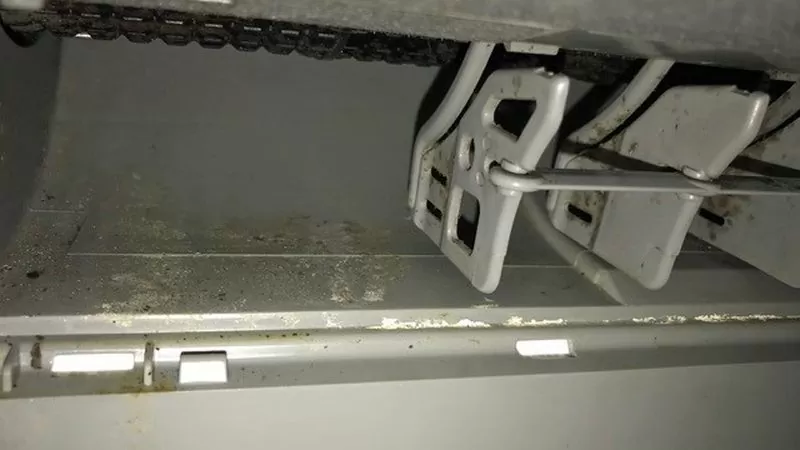 Photos taken of the air conditioner at the time show mould growing inside the casing and on its fins. (Photo: Carly Buhagiar)
"It was clear as crystal. It was the air conditioner," Dr Jones said. While reverse cycle air conditioners can be useful in lowering a home's humidity, they can also become mouldy inside if they are not regularly checked and maintained, Dr Jones said.
Lint and debris collect inside the air conditioners over time and, when mixed with water, form mould, he said. "It becomes mould contaminated and that's when it's a massive problem."
Sydney GP Mark Donohoe, who specialises in treating chronic illnesses, said he was initially sceptical about CIRS, but over the past few years had come to recognise mould as a factor behind many of his patient's puzzling and debilitating conditions.
Many of his patients had been ill for years and misdiagnosed with illnesses such as chronic fatigue. Like Ms Buhagiar, they were also often suspected of having mental health conditions such as depression and anxiety, Dr Donohoe said.
"When medicine has run out of ideas of physical medical treatment we move straight to psychiatry and psychology. "(So patients get) misdiagnosed with mental health problems but when the moulds are gone they quickly regain their equilibrium and you find people emerging from what seems like depression or anxiety or bipolar disorders," he said.
"There is no doubt in my mind that (mould-related illness) is an enormous problem and that we are going to have to solve it." "Why it's taken off so much in the last few years I can't tell you but my practice is full of people who are mycotoxin affected, and mould toxins are by far the most common of those.
 Treatment for the Mould Illness
Carly underwent a two-week detox program in a Seattle based wellness clinic which involves medication and also alternative treatments such as "ozone steam sauna capsules" where patients sit inside and "sweat out the mould".  At an expense of $25,000, Ms Buhagiar said she had noticed an improvement in her health.
Dr Donohoe said while there was some merit to the suggestion you could sweat out toxins in the body, the main way to treat a mould illness was still to avoid exposure to it.
Ms Buhagiar has been treated in the US for toxic mould syndrome. (Photo: Carly Buhagiar)
CALLS FOR A NATIONAL INQUIRY
NSW Liberal MP Lucy Wicks, who has herself been diagnosed with CIRS, called for a national inquiry into mould-related illnesses.
An inquiry, similar to one recently conducted into Lyme disease, was needed to raise awareness among GPs about the health impacts of mould and also establish national guidelines for doctors, Ms Wicks said.  A spokesperson for Health Minister Greg Hunt said the minister was supportive of the proposal.
Professional Air Conditioning Mould Remediation
For all your Air conditioning mould remediation contact one of our professional Sanitair HVAC Hygienists.  We have over 65 branches across Australia.
Freecall 1800 1301 68 or enter your postcode into the search bar to be directed to your local Sanitair HVAC Hygienist.
Sourced: https://www.9news.com.au/national/2018/06/06/10/44/mould-in-air-conditioner-woman-develops-toxic-mould-syndrome