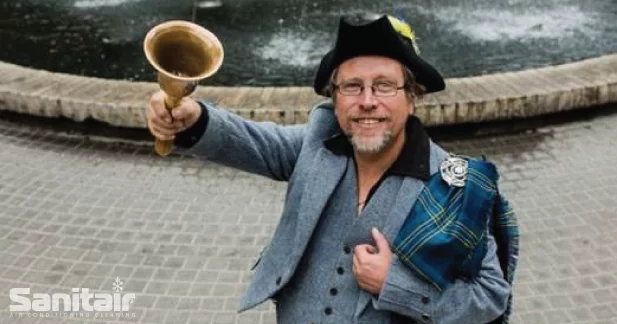 Clean air now! for every Woman, Man and Child in Canberra
Official Canberra Town Crier Joseph McGrail-Bateup is now also proclaiming the many benefits of Sanitair™
Canberra Residents, Employees, Businesses Owners, Students and Visitors to the city have now been granted the freedom and opportunity to breathe clean healthy air indoors.
It is with great pleasure and by the order of Sanitair Australia that we announce that Joseph McGrail-Bateup has been appointed Sanitair licensee for Canberra South. Joseph's first proclamation as a licenced Sanitair™ HVAC Hygienist was to let all Canberran's know that no Woman, Man or Child shall unnecessarily be exposed to dirty air conditioning in their Homes, Workplace, Educational facility or Accommodation whilst staying in Canberra.
Joseph joins the growing number of Sanitair licensees dedicated to providing air conditioning hygiene services in Australia.  Sanitair is Australia's largest and most trusted air conditioning cleaning and sanitising provider providing their services since 2005.  With 60+ licences now operating in every state and territory of Australia, there is sure to be a local Sanitair™ HVAC Hygienist near you providing their Award Winning Premium Clean.
Local Sanitair™ HVAC Hygienist have been providing their industry leading and Award-Winning AirCon Cleans for Domestic Homes, Hotels & Resorts, Aged Care, Hospital & Medical, Mining, Public & Private Schools, Universities, Childcare & TAFE, Government agencies and Prisons. All Local Sanitair HVAC Hygienists are fully insured, Police Checked and have working with children and the vulnerable clearance.
A Sanitair Premium air conditioning clean and sanitise has many benefits as experienced by thousands of Australians each year and some of these benefits include Health, Energy Savings and Operational Efficiencies. Sanitair promises that after they carry out a Sanitair Premium Clean your air conditioning will Run, Look and Smell as new and best of all every one of their premium clean is backed with a 12 Month Nationwide Mould Free Guarantee.
To speak with Joe or your Local Sanitair™ HVAC Hygienist simply call on Free Call: 1800 130 168 and enter your postcode when prompted.