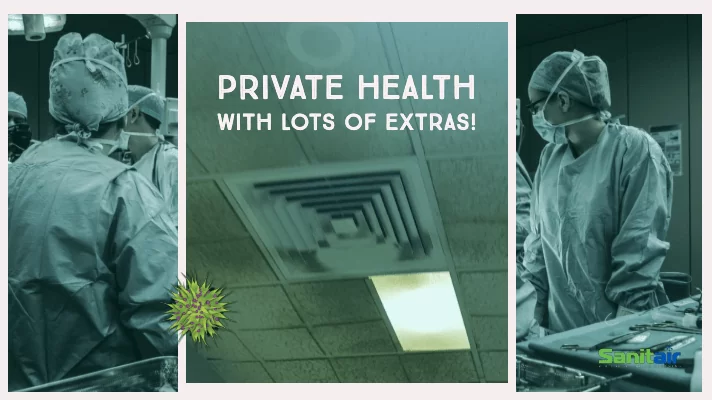 Do you think hospital air conditioning should be hygienic?
Recently one of our directors was admitted to one of the best private hospitals in the country with a respiratory / lung infection. To his complete disgust, whilst being transferred from the emergency department to the ward, he could not believe his eyes looking up at the ceiling and noticing the severely contaminated air conditioning system.
This is not acceptable in any hospital, let alone a private one.
Just another prime example, where the owners and managers of facilities are under the impression that their air conditioning HVAC Hygiene is being addressed under their current maintenance contract. It is time for owners and managers to take responsibility for the hygiene of their air conditioning systems.  Especially in a facility such as a hospital, where patients are often admitted with weakened immune systems and vulnerable to airborne contaminants.
How is it possible for hospital staff/management not to acknowledge the high levels of contamination clearly visible in this video, without addressing the issue immediately.
This clear level of contamination exposes staff, patients and hospital visitors to possible harmful airborne contaminants which can include Dirt, Dust, Human DNA, Bacteria and Toxic Mould.
The owners and managers of all facilities have a duty of care under the Australian indoor air quality standard to provide clean uncontaminated air which is clearly being ignored all over the country, including in our best hospitals.
Air Conditioning Systems that are not professionally cleaned and sanitised overtime will collect a build up of contamination filtered from the indoor air.  Contaminants include biofilms, toxic mould, dirt, dust, Human DNA, bacteria and more. These contaminants are then blown back into the indoor air and become airborne and ready to enter unsuspecting (patients, staff or visitors) hosts. Sanitair have been completing HVAC Hygiene remediation since 2005 and some of our worst air conditioners are located in health facilities.
Maintenance of a health care facility HVAC System differs from almost all other types of buildings. The biological flora that are endemic to all health premises pose a risk to both patients, staff and visitors. The design and maintenance of the building play key roles in controlling both the proliferation and dissemination of harmful Maintenance standards for critical areas in health facilities. The best-designed health care facility will cease to function to the design intent if the building is not maintained to the original specifications.
Supply air and exhaust systems have the capacity to introduce harmful organisms into the building, as well as distribute and circulate introduced and hospital-acquired organisms.
Walls, floors and ceilings must be maintained in good order with damage regularly repaired to enable proper cleaning. All types of surfaces need to be maintained in good order to ensure organisms have less places to proliferate. Biofilms and water damage pose particular risks to the sickest patients with compromised immune systems.
Time for these facilities to have a health check!
REF: Grove DI, Lawson PJ et al 2002, 'An outbreak of Legionella longbeachae infection in an intensive care unit?' Journal of Hospital Infection 52:250–258.
Boyce JM 2007, 'Environmental contamination makes an important contribution to hospital infection', Journal of Hospital Infection 65(S2):50–54.
Lindsay D, von Holy A 2006, 'Bacterial biofilms within the clinical setting: what healthcare professionals should know', Journal of Hospital Infection 64:313–325.
Sanitair Australia ©