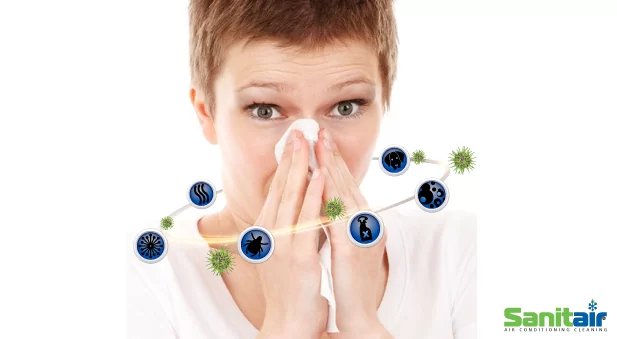 Mould needs moist warm conditions and a food source. That food source may be carpets, flooring, aircons or anything the organism can grow on. Air conditioners are the perfect breeding ground.
How can mould affect us?
Common symptoms include headaches, achy joints, asthma, fatigue, sinus, respiratory infections, skin infections and anxiety. According to NSW Health, "if inhaled the spores can cause blocked noses, irritation to the eyes and skin. People can develop mould infections, usually in the lungs, asthma sufferers can have an attack and life-threatening conditions are possible — although only in rare cases."Mould is a harmful contaminant. It is hazardous and can consume everything around it. Minute spores are released by the mould in order to reproduce.
According to Dr Gaskin "mould spores don't affect all people in a similar way. You could line 10 people up in a room and they could have a completely different reaction depending on their sensitivities or ill health. The symptoms are easy to confuse with general colds and flu." she said. (Source: www.news.com.au)

---
How to prevent mould in your home and office
Reducing dampness in your home or office can prevent mould from growing. Other preventions include:
Reducing ​humidity, Good ventilation and Controlling moisture
Lower the use of unflued gas heaters
Limit the amount of indoor plants and fish tanks in your home/office
Avoid or lower the use of humidifiers
Open windows for good ventilation
Turn on exhaust fans in bathrooms laundries and kitchens
Don't ignore water leaks and plumbing problems. Fix all water problems as soon as you can
Carpets damaged by water and building materials must be washed and cleaned. Get rid of any material/furniture that cannot be cleaned and dried.
Run your air conditioner at 24 degrees as this helps to control the moisture in the room. If running a unit at its lowest temperature with windows open, this can add to the problem. Close windows and doors when running air conditioning. Ensure your system doesn't contain mould as this can cause further problems.
Contact a professional aircon cleaning company such as
Sanitair Australia
in this case.
What to do if your air-con has been affected by mould
Air conditioning units are another area that moulds and organisms were grown on and in. If they are not regularly cleaned and sanitised, you and your family may be breathing in contaminated air which can make you feel ill and fatigued.
Sanitair Australia
offers a
Premium Split System Clean & Sanitise
which is the most popular and thorough cleans. The
premium clean
is recommended annually for Asthma and Allergy sufferers and Sanitair® guarantees treated air conditioners indoor coils will be
free of mould and bacterial contamination for a period of 12 months
from treatment date. If any treated indoor coil is found to have mould contamination within the guarantee period, Sanitair® will clean and retreat the contaminated system at no charge to the customer.(Credit source:
www.news.com.au
)