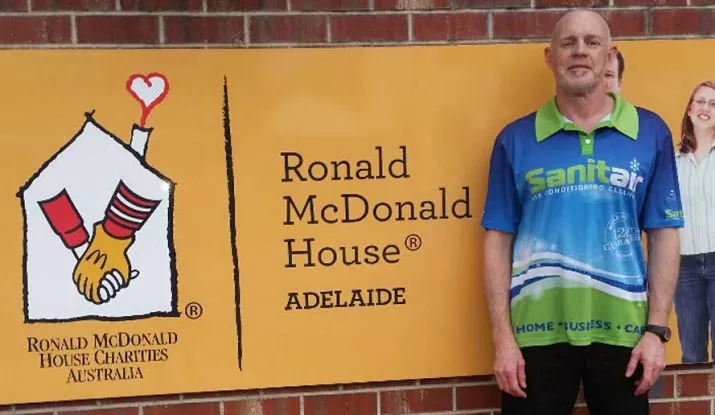 David McGlashan from Sanitair Adelaide was recently contacted by Ronald McDonald House Adelaide in relation to cleaning and sanitising the hi-wall split system air conditioners in their family apartment complex. Sanitair has previously provided HVAC Hygiene remediation for Ronald McDonald House in NSW and Adelaide was also keen to experience the improved air quality as a result of contracting Sanitair Adelaide.
Ronald McDonald House provides accommodation for families of children that have to relocate to enable access to vital ongoing medical treatment. Some of the families have travelled from as far as the Northern Territory and are now living 1000's of km from "home". Quite often families have to relocate for many months – one family, in particular, travelled to Adelaide from Darwin in February and "with a bit of luck" might be home for Xmas! They have to endure 10 months away from home as their 2yr old is being treated for leukaemia – it is extremely humbling and put our daily worries into perspective!
There are 10 family apartments on site and for families and those living with compromised immune systems maintaining a healthy environment is paramount. Regular professional air conditioning cleaning and sanitising ensures a high standard of indoor air quality and minimises risk.
Sanitair Adelaide familiar to RMHC
Ronald McDonald House Adelaide Operations Manager Tim Rees-Jones was familiar with Sanitair from the air conditioning cleaning services provided at Ronald McDonald House in Randwick NSW and from his time with The Mantra Group.
Sanitair Adelaide had previously cleaned the a/c's at "Mantra on Frome" and "BreakFree Directors Studios" in Adelaide.  After Tim had witnessed the benefits of Sanitair first hand he had no hesitation in contracting Sanitair Adelaide once again to undertake the work at Ronald McDonald House.
David from Sanitair Adelaide said the challenges of completing his work whilst working in and around families who occupy the apartments whilst inconvenient compared to the inconvenience that the families are going through is really insignificant.
"We make a living by what we get, we make a life by what we give."– Winston Churchill