Sanitair Australia enters Agreement
Sanitair Australia is pleased to announce that they have entered into an agreement with Electrolux Home Products Pty Ltd. Sanitair will provide their award-winning air conditioning cleaning services for Kelvinator products Australia wide.
If you currently own a Kelvinator air conditioner, now is a great time to take advantage of huge savings through the Kelvinator Rewards Promotion. To find out more about the Kelvinator Rewards promotion, call Sanitair today on 1800 130 168.
Electrolux acknowledge the many benefits of a correctly maintained split system air conditioner, these include;
Health benefits through the removal of mould, bacteria, pet dander and pathogens
Quieter operation
Energy savings
Extend the life of the air conditioner
Reduced Odours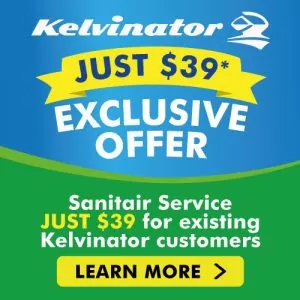 If you are in the market for a new air conditioner, Sanitair Australia recommends Kelvinator products.  If you are unsure of the size you need, you can use Kelvinator's Air Conditioner Sizing and Selection Wizard. The wizard will assist you in choosing the correct system for your needs.