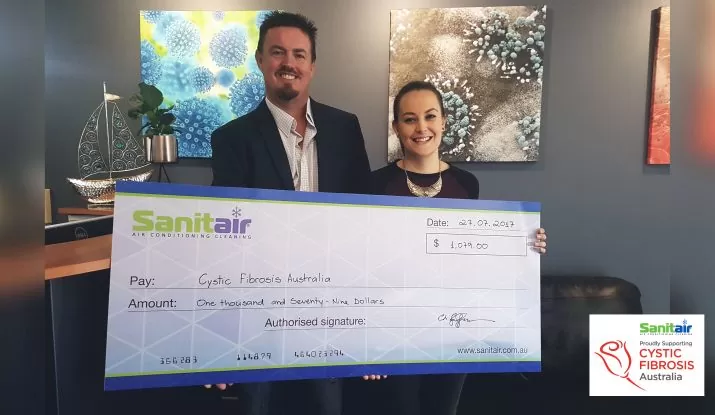 May was National Cystic Fibrosis Awareness Month. Across the country, thousands of volunteers came together to raise awareness about this devastating disease and share their story of hope and progress.
Cystic Fibrosis (CF) is a relatively common inherited disease in which from infancy there are recurrent chest infections causing lung damage, intestinal malabsorption leading to severe malnutrition and growth failure, and there is an excess of salt in the sweat. Untreated, the condition is usually fatal in infancy or early childhood. With treatment, the average life expectancy of people who live to adulthood is about 37 years and this is increasing. (Credit: Cystic Fibrosis Australia)
Facts about Cystic Fibrosis
There is currently no cure
In Australia, one in 2,500 babies are born with CF, that's one every four days
There are over a Million carriers of CF in Australia
Since 1986, all newborns have been subject to a heel prick test for diagnosis
People with CF are not encouraged to socialise with each other. The risk of cross-infection and exacerbation of lung conditions is too great. CF can be a lonely existence.
Sanitair donates to Cystic Fibrosis Australia
For the month of May, a number of local Sanitair technicians donated a percentage of every Premium Split System Service they carried out. The funds go toward Cystic Fibrosis Australia's 65 Roses national fundraising campaign to be used as research for a cure.
Sanitair Australia CEO, Craig Jefferies presents Justine Foulkes on behalf of Cystic Fibrosis Australia with a cheque for $1079.00.
This donation was made possible with thanks to Todd and Mel Kelly, Sanitair Townsville and the fundraising efforts of their fellow Sanitair licensees;
Todd Kelly – Sanitair Townsville
Trent Barnett – Sanitair Central Coast
David Chen – Sanitair Chatswood
David McGlashan – Sanitair Adelaide Central & South
Jim Collins – Sanitair Tweed Heads
Philip Tiedemann – Sanitair Fraser Coast
Robert Green – Sanitair Tasmania South
John Fleay – Sanitair Sunshine Coast
David Levy – Sanitair Port Macquarie/ Taree
Joe McGrail-Bateup – Sanitair Canberra
---
Company details: Since 2005, Sanitair Australia has been Cleaning and Sanitising all brands and types of air conditioning systems, specialising in Split System Air Conditioning which includes Hi wall, 4 Way, Under Ceiling and Floor Cassettes. Sanitair also provides specialist maintenance for both Domestic and Commercial Ducted air conditioning systems. Sanitair technicians are located in every state and territory of Australia.
Contact Details: 1800 130 168
Location: Australia wide | Head office: Tweed Heads, NSW 2486