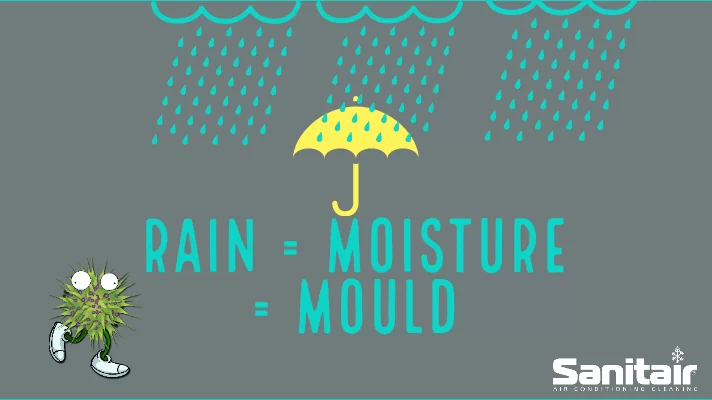 High levels of rainfall in most parts of the country will see a high level of mould in our homes, bathrooms, air conditioners and may even venture into parts of the home that wouldn't normally get mould.
Did you know that with every basket of wet laundry up to 5 litres of water vapour is expelled into the room atmosphere and every person in the home creates up to 10 litres of water vapour into the indoor air per day.  For mould to grow it needs moisture (from the air) and a food source (chemicals, dusts, skin DNA, pet dander) and if the surface is wet for up to 48 hours and not dried out, mould will begin to grow.
At the first sign of moisture penetration you should remove the moisture,  this can be done by using a dehumidifier or using your air conditioning system as a dehumidifier. Please take care that you do not recirculate any mould from the air conditioner and make sure it has been professionally cleaned and sanitised before using the system.
If you are using your clothes dryer, try to use a condensing dryer that removes the moisture from the wet clothes or have the dryer vented to the outside air.   This should also be done when using the bathroom, the vent should be vented to the outside (not the roof cavity) and to ensure the vent is always used when showering add it to the light switch so that is turns on as soon as the bathroom is being used.
Source: Today Nine Network 9now.nine.com.au/today
Sanitair have over 70+ operators that are locally owned and operated and qualified mould testing technicians in Queensland, New South Wales and Western Australia. IICRC certifed Firm and a corporate member of IAQA.
Freecall 1800 130 168 and speak with your Sanitair HVAC Hygienist.