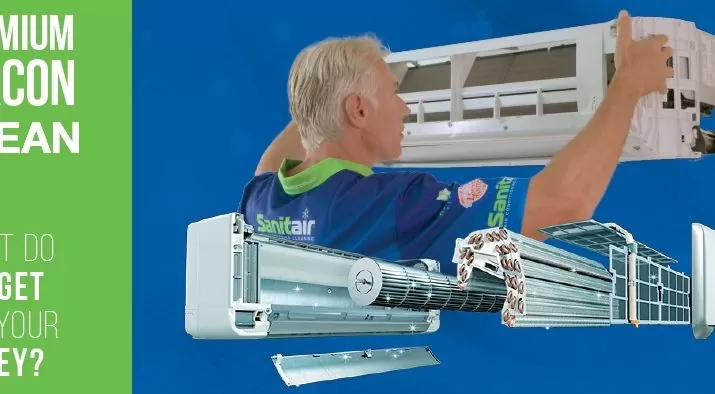 Sanitair™ Premium Aircon Clean & Sanitise
What do you get for your money?
A local Sanitair™ HVAC Hygienist will travel to your home or business.
All Sanitair technicians are professionally trained, locally owned, insured and police checked. Our technicians are courteous, respectful and will leave no mess.
Carry out a Functionality & Operational Test
This is so you know your system and remote control is functioning properly and safe to use.
Removal of Evaporator Cover – Clean & Sanitise
Allows for access to the coils for correct and thorough cleaning of coils and casing.
Low pressure Clean of Evaporator Coils
Removal of bulk and biological contaminants will make your system run more efficiently reducing your running costs by up to 28%. Your aircon will cool better, smell better and deliver healthier air for your family and friends.
Low pressure Clean of Air well & Fan/Blower
Thorough cleaning of the evaporator fan/blower will increase the air flow reducing the time required to condition a room to your desired temperature. Correct cleaning of blower will also remove unwanted noises caused by imbalanced fans resulting in quieter operation. Your air conditioner won't have to work as hard and therefore will last longer and also add to the operational cost savings.
Condensate Pan & Drain Flush
Correct cleaning with a mix of mechanical and non-toxic & environmentally friendly cleaning solutions will ensure your system will be free of biological contaminants including Mould, Bio-Films and other harmful pathogens. Correct cleaning not only removes biological contaminant but is good insurance against unwanted system leaks that can damage property.
Filter Clean & Sanitise
Cleaning and sanitising of filters should be carried out by homeowners every 3 months, but included in a Sanitair premium clean we will de-grease and sanitise your filters restoring them to as new condition.
Application of Protectair™ Biological Coil Protection – (12 Month Mould FREE Guarantee)
The final part of a Sanitair Premium Service is the application of Protectair™ BCP. This protective treatment will ensure that your evaporator coils are Mould Free for 12 Months and that is our Guarantee. This proprietary formula also has a deodorising effect and increases operational efficiency, saving you further.
Outdoor Condenser Coil Flush.
This condenser clean also forms part of a normal Sanitair premium clean if the condenser is located on the ground level. Even though the outdoor unit has nothing to do with the indoor air quality, the removal of pet dander, grass clippings and dirt also contribute to the further reduction in running costs. (Unfortunately, due to Workplace Health & Safety laws outdoor condensing units mounted above 2.4 meters cannot be cleaned by one man.)
---
Contact your local Sanitair HVAC Hygienist on Free call 1800 130 168 to find out more about the Sanitair Premium Aircon Clean & Sanitise.